Shortened lead time by processing after heat treatment!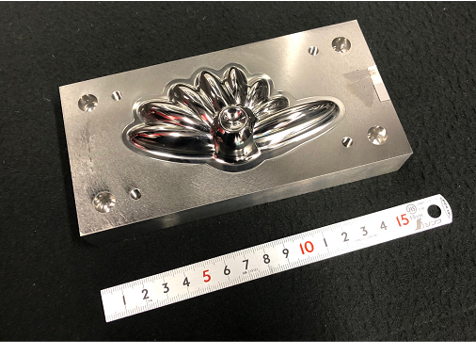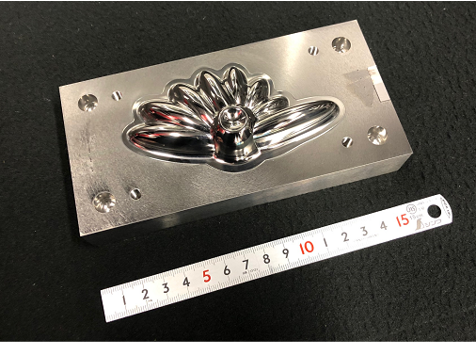 (1) Purpose
By performing roughing and tap processing after heat treatment,
we introduce a processing method that shortens the lead time of mold manufacturing.
(2) Points of introduction
Highly versatile ultra-precision micro processing machine Precision micro processing machine that can also use the "Vision"
Φ16 end mill made by Sora Sangyo and can perform heavy cutting
Use of CAM dedicated to rough processing developed independently by Rice Industries
Use of TH3 coating tools from MOLDINO suitable for high-hardness materials
(3) Processing details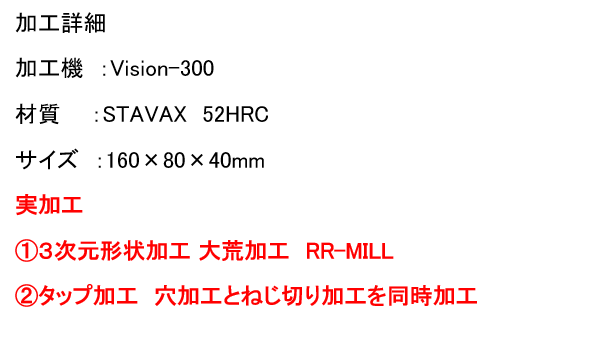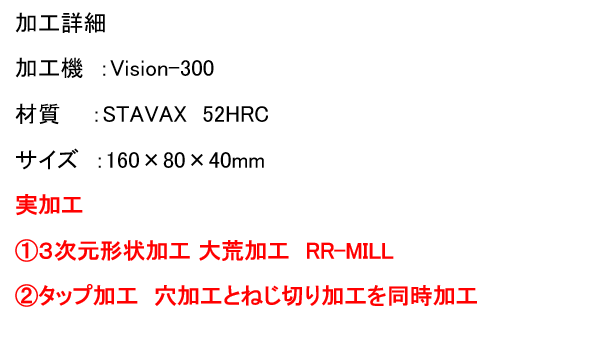 (4) Processing results
Processing result (1) Three-dimensional shape roughing

Point
(1) High-efficiency roughing
with a high-precision processing machine Reduction of ⇒ "crossing machining"
(2) Dedicated processing machine CAM RR-Mil
⇒ machining so that it runs up from the bottom to the top
⇒ Effective use of the tool side and shortening the cutting length ⇒
Cycle time and tool life extension are both
achieved (3) Optimal tool Use
of EHHBE made in Mordino ⇒ High R-shape accuracy due to the escape angle shape of special four-bladed blades ⇒
vibration suppression effect due to unfair division
Processing result (2) M6 tap

Point
(1) Use
of epoch D thread mill⇒ reduction
of machining time by bottom hole + thread cutting with one tool ⇒ easy to program with dedicated software ⇒
smooth discharge of chips by special design cutting edge and stopper shape 
By
performing the effect roughing and tap processing before quenching, the heat treatment process occurs,
and the number of processes increases because the roughing machine and the finishing machine are separated
. Processing
is performed after heat treatment, and the reduction of "watari machining" due to
roughing with high-precision processing machines leads to a shortening
of the lead time of the mold manufacturing process.